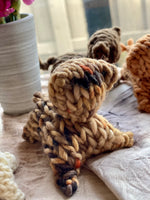 Calico Kitten with Bundle Dyed Yarn
We usually think of dyeing silk with the bundle dye technique, but you can get great effects bundle dyeing yarn! This little calico kitten was dyed with several kinds of eucalyptus and a little piece of iron added for grey and black tones.
 What you need:
White, 100% Wool Yarn (One half ounce per kitten)
Wool Stuffing (or what ever you have handy- yarn scraps, or cut up fabric also makes fine stuffing.)
Knitting Needles
Darning Needle
Eucalyptus Leaves
A piece of Iron if you want dark tones
A piece of cotton fabric to wrap it all up in, about 12" X 14"
Dye Pot
Water
A Stove to cook on
The Dye Process:
Gather Eucalyptus leaves. The majority of leaves in this project came from Eucalyptus Citriodora. The fresh leaves dye shades of green, but if you gather wind fallen leaves, seeds, and pieces of bark after the sun has baked them for a long time, they will dye soft beige and brown shades. I also used a few Eucalyptus Cinerea leaves for those bright orange spots that Calicos sometimes have.
Eucalyptus Citriordora
Lay out your fabric, and place a layer of leaves, seeds or bark on it.  Then lay your yarn on top of the leaves. Make sure you have tied the little skein of yarn in at lease one place so it doesn't tangle. Then lay another layer of leaves over the top of it all. Add a piece of iron if desired.
Roll the whole thing up, folding the ends in to keep it all from falling out.          Bind your bundle tightly with twine. Boil the whole thing for an hour. Leave the bundle in the pot to cool over night.
The next morning, take the bundle out and open it! Hang the yarn to dry. I also ended up with some bundle-dyed cotton that would make a fragrant and interesting face mask!
You can see how the metal makes dark tones every where it touches. You can use almost any metal- wire, bottle caps, found scraps, they will all modify the color of your yarn.
To Knit Your Kitten
I'm using bulky weight yarn, and size 10 needles, but this is very flexible.
For the body:
Cast on 10 stitches and knit until it is square. Cast off.
For the Head:
Cast on 6 stitches and knit a rectangle. I am using a stockinette stitch here. ( Knit a row, Purl a row.)   Cast off.
To Sew the Body:
Fold the body as shown. Sew all four legs first, then fill the legs and belly with your stuffing, and sew the belly shut using a whip stitch.
To Sew the Head:
Fold the fabric in half. Sew the two sides. Stuff the head.
Sew a running stitch around the bottom and pull tight to form the neck.
Sew the head onto the body.
Create a little tail. You can add a stitch to define the ear if you like.
Add this little one to your litter!