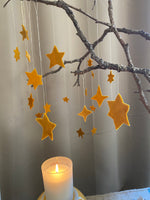 Dyeing Golden Stars with Turmeric
Kitchen dyes are perfect for impromptu art projects! Dyeing wool felt with Turmeric is quick and easy because the felt does not need any treatment before dyeing, and it takes color very quickly. But, before we start, here's where this idea came from:
Growing up in California, I had a great affinity for Sycamore trees. Somehow, even though I moved a few times, there was always a great, old Sycamore outside my bedroom window. In winter, when the nights were long and chilly I would often lay with my head at the foot of my bed so I could see the grand old Sycamore outside. Even in winter, when it had lost all its leaves, the branches seemed to spread themselves in a protective gesture around the window, and I could see the stars twinkling between the branches. The whole mood was safe and cozy.
Later, when I spent time working in the kindergarten, and it was time for 14 four olds to take a nap, I would recreate that cozy scene from my childhood for them. I found tall sycamore branches and brought them inside. Then I hung (literally) hundreds of little stars from the branches, sometimes made of golden wool, sometimes made of brass. The heater would turn on from time to time, and the moving air would make all the little stars sparkle for the children as they drifted off to sleep.
This is a great activity for young artists to help with. If they can wield a pair of scissors, cutting out felt stars is great practice for their fine motor skills!
What you need:
White wool felt   (synthetic felt will not take the color)
1 Teaspoon Fresh (grated)  or Powdered Turmeric
1 Cup Water
A pot to simmer in
Scissors
Needle and Thread
Process:
Place the water and turmeric in a small pot and bring to a simmer.
Cut out your wool stars. I like to use all kinds of stars! But if you want more uniform shapes, make a paper pattern, and cut them out on the fold as shown below.
Toss the felt stars in the pot and simmer 15 minutes.
Take them out, rinse them well, and lay flat to dry.
Using a single thread, knot the end.
Thread it through the tip of your star, and tie an overhand knot above it to create a loop to hang it with.  Trim the threads.
 Hang your stars where ever you like!
I make them, a few at a time, and save them all year long. You never know when you might need a little extra sparkle!