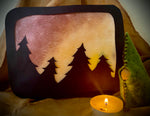 Silhouette with Earth Pigments
As the days grow shorter, and a distinctly cozy feeling sets in, the nature table reflects that wintry mood. Earth pigments made from ground up stones and soil can create a beautiful glowing background for our image! If you don't have earth pigments handy, the same effect can be achieved with regular sidewalk chalk.
First find a soft stone, handful of soil, or a piece of sidewalk chalk, and grind it to a fine powder using a mortar and pestle, or a hammer. Pour it through a sifter to remove any large stubborn bits.
Sketch your design on black construction paper using a white pencil, and using scissors (or an Exacto knife- just for adults) cut out the background. Cut a piece of tracing paper to fit your frame.
I keep my ground pigments in bottles so they are always ready to use. Here are my three colors. Using your lightest color first, rub the powdered pigment onto the tracing paper, using a circular motion. Then add your medium tone in the same way. Add your darkest color last.
Here are all three on the tracing paper. You can see the pretty ocher rock that the yellow tone came from.
Glue your tracing paper to a piece of white paper. Then glue your cut out  silhouette over the colored tracing paper. Trim all three papers at once around the boarder.
And, there you have it! Find a nice place on your nature table to help set the warm and cozy mood for winter.