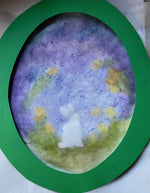 Here's a sweet transparency, painted directly with flowers! This is plant dye at its simplest! Hang it on your wall, or place it on your nature table to honor the fresh beginnings of spring.
Supplies:
Fresh flowers, Tracing Paper, Green Construction Paper, Glue Stick and optionally, vinyl removable adhesive paper.
Method:
Cut out your bunny, and stick it to the center of the tracing paper. (It's like making a sticker that you can peel off later. You can cut it out of construction paper and hold it in place as well.)
Rub your fresh flowers directly on the tracing paper. I have used petunias, cosmos, Oxalis flowers, dandelion leaves, freesia flowers and marigolds.
See what you can find in your neighborhood! Geraniums, roses, nasturtium, and hibiscus are all wonderful. These colors will not last forever, but they will be pretty for a long time.
Don't be shy, just rub the color on with your fingers!
Once you have an image you like, peel off the bunny sticker you made.
Make a pattern for your frame with white paper. This way you can fold it to make the shape symmetrical. Trace your pattern onto the green paper with a pencil.
Cut your frame out of green construction paper.
Using your glue stick, glue the green frame to the front of your picture, and trim the edges of the tracing paper to size.
Turn the whole thing over, and apply glue to the back of your picture. Then glue it to a white piece of paper, and trim the white paper to size.
The colors from the flowers are delicate, and the white paper backing helps the colors shine through.
Happy Spring!