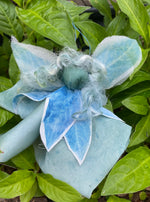 Here in Los Angeles it's easy to grow Japanese Indigo plants which give a rich deep blue color for dyes and paints! Indigo seeds sown at the beginning of the year have grown into lush green plants and are ready to harvest in early summer. Aside from making our own dye it's fun to create impromptu art projects with the leaves. Here is an easy one using two different techniques to extract the color.
                                          Japanese Indigo plants
Salt Rub Method
     Pick a few indigo leaves and put them in a small bowl. Add 1/2 teaspoon of salt and some natural fabric such as silk or cotton. Rub the mixture with your hands for at least 15 minutes. I used a little piece of silk satin for mine. Soon your fabric will turn a beautiful teal blue! Rinse and hang to dry.
Leaf Print Method
     Place fresh indigo leaves on your fabric, cover with another piece of fabric and pound gently with a mallet or hammer until the leaf print appears. You will get green prints. Here I have printed indigo leaves on silk chiffon and silk satin.
Allow the prints to dry completely!
Wash with gentle soap. (Scrub well for about 5 minutes.) The yellow flavonoids in the leaf prints are water soluble and will wash away leaving a brilliant blue indigo print!
Wrap some lambs wool up in a cloth with indigo leaves and pound away to make blue curly hair! Let it dry and rinse as before.
Assemble your fairy!